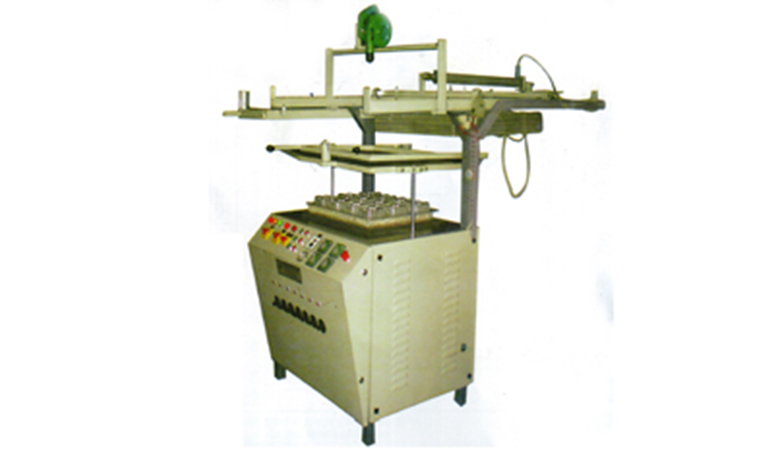 AUTOCYCLE BLISTER FORMING & SKIN PACKAGING MACHINE
Economical, fast, easy in operation and automatic temperature control are some of the features of our provided Double Side Autocycle Skin Packaging & Blister Forming Machine. Customers can avail these with us at market leading rates.
The Autocycle blister forming & skin packaging machine is a state-of-the-art packaging solution that can help businesses save time and money. This machine is designed to form blisters, skin packs, and other forms of packaging quickly and efficiently. It features an intuitive user interface that allows for easy operation and customization of the packaging process. The machine also has advanced safety features to ensure operator safety during the packaging process. With its high speed, efficiency, and reliability, the autocycle blister forming & skin packaging machine is a cost-effective solution for businesses looking for a reliable way to package their products.
A few quality features of our products 

Features:
·         Significant material saving.
·         Greater production at low cost
·         Return on Investment as it is divided overheads
·         Simple operation utilizing push button and for easy mold changing
·         Reduced mold change time as manual interface is negligible
·         More output and speedy performance
·         Temperature is set automatically
      Application:
    ·    Appropriate For The Manufacturing Of Disposable Donas, Glasses, Cups, Plates, Lunch, Trays, Microwave Plates, Etc.
Technical Specifications:
 

Description

Specifications

Forming Area

18"X24"

Maximum Draw

2 Cycles per minute for HIPS or PVC

Roll size (width only)

20"

Machine Dimensions (LXWXH)

72"X36"X60"

Maximum Draw

100MM

Approximate Weight

700KGS

Sheet Thickness

0.01MM TO 3MM

Electricals & Switch

Make L&T

Vacuum Pump

300LMV Vacuum Pump with tank

Heat Control

SUNVIC

Electric load

7.5KW

Material used

HIPS, PVC, PET, ABS

Sheet feeding

Manual

Pneumatic cylinder

Make-Festo/JANATICS

Machine Operate

Timer make selection

Heating element

Air Heater make ISI

Motor

2 HP Make Crompton

Mold Cooling

Blower-make Electrox

Heater Moving

Pneumatic Cylinder

Frame Moving

Pneumatic Cylinder

Cylinder Operation

Pneumatic Valve Control Make-Festo/Janatics

Machine Frame & Parts

Powder coated